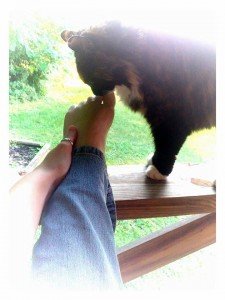 I have wanted
I have needed
So many times
To spill the words on the page
To finish the thoughts that begin
But they drift away from me effortlessly
Like smoke of incense spilled into a draft
Philosophy pours from me
Thoughts deepen into me
Purpose struggles to find meaning
And meaning attempts to confine itself in words
So that purpose can be comprehended
But the fit is like pouring the mother
Into the maiden's pants
While the crone sits by and chuckles
We are all made of water
But so few of us know
So they pretend to be made from wood
Or from stone, barely shape-able
Because they fear…
What?
What is it that they fear so intensely,
So intensely that they explode
In ultimatums and electrostatic detonations
They sear the atmosphere with their zeal
Demanding that all inhabitants of this world we share
Bow to their own interpretations
But the blind man feeling the elephant's trunk
Has no real advantage over his blind brother feeling its tail
Neither is entirely wrong and neither is entirely correct
But they cannot possibly comprehend that
The only wrong here is to force their brethren to walk
On a path they were never intended to follow
How are we to judge one another, then?
How do we assert what is the right thing to do?
We do not. That is the point.
We may speak of our experiences and the outcomes of such,
But we must constantly view life with the understanding
That we were meant to be different.
Namaste
I wish to be one with you
And to celebrate our differences instead of condemning
Because it is this way that we can learn about the whole elephant:
Together.
I am trying to learn
That I am most discontent
When I am looking at my life
Walking my path with the constant fear
That you might disapprove of it
Apparently I do not need to accept your judgement
But I am afraid that if I do not
You will push me away from the elephant
And I will have to stumble darkly
Until I happen into another strange creature
Likely face first
And who's to say that those already petting
This soft downy skin
And feeling these smooth conical teeth
Will not just push me away as well?
Perhaps I was made to explore
The extent of a being
Entirely on my own
People are exhausting.
People are hard.